NEWCO Enterprises, LLC

Melbourne, Florida

Telephone: (321) 751-4537

BUSINESS

I use it daily, in the car, in my briefcase, or with me in my office. I do keep it with me constantly during business. It holds everything I need and use very professionally, and looks so slender and makes me look completely organized! 

Gail Arthur, Realtor Daleville, VA www.realtorgailarthur.com  

EVERY DAY

I just received my new gizmo bag and had to let you know how much I love it.

I already have the original pup, which by the way, looks like new after three years of continued use. But since this one is a little larger, I can even fit my large wallet/checkbook in it with plenty of room for all my other necessities (love the fabric). 

One of the best features of your product is that it can be worn for dress as well as casual so I don't have to keep changing bags. This allows me to wear it to work in a professional setting. I have shoulder and back problems and it is a blessing not to have to wear any extra weight on my shoulder. But when my sister borrows it, she loves using the shoulder strap. 

J. Ricketts , Melbourne, FL

TRAVEL

I used my PUP on two vacations this summer to South Africa and Germany and believe me this is the best invention in the line of waist packs. It is very spacious (roomy) and has many compartments which made it easy to store items such as my passport and tickets and had them on me at all time.

One little story, when I was in Germany we happened by the former Charlie Check Point and there were people there selling Charlie Check Point stamps for your passport. Everyone in my group wanted one and I was the only one with my passport and got one in my passport, everyone else had to have a piece of paper stamped. I would not travel without one again. 

Essie Gregory, Brooklyn, NY.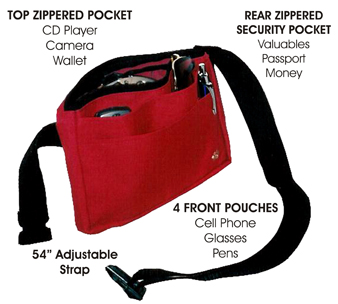 Order Online or Call Us at (321) 751-4537